Globally, the building industry is the largest segment within the energy market, generating around $94.5 billion in revenue in 2020, a substantial growth from previous years. The real estate sector is taking great strides to promote energy efficiency thanks to sustainability initiatives like the Paris Agreement.
But there's still a long way to go. To achieve net-zero emissions by 2050, the buildings and construction industry needs to accelerate its decarbonization efforts, reducing carbon emissions three times faster in the next three decades compared to the preceding 30 years.
Without points of reference or measurable benchmarks, industry leaders still struggle to assess if they're doing enough to meet net-zero goals. After all, comprehensive climate-related risk reports require a lot of time and money upfront, making climate due diligence a costly affair—until now.
Measurabl has a solution. Climate Due Diligence Scan (CDDS), a new product from Measurabl, offers those involved in real estate transactions visibility into any property's climate risk with on-demand, granular, impactful data. All you need to provide is four property attributes—the address, property type, floor area, and year built—and you can identify opportunities to preserve or increase asset value within minutes.
With CDDS, you can identify properties with green building certifications such as Leadership in Energy and Environmental Design (LEED) and Building Research Establishment Environmental Assessment Method (BREEAM). These are two of the most reputable and leading green building certifications worldwide and can put your mind at ease about a property's energy consumption.
With CDDS, you can evaluate a property's sustainability performance with carbon and energy estimates for any building worldwide, with data going back as far as 2018. Gain a competitive edge and ensure the properties in your real estate transaction are leaders in sustainability.
This is the fourth article in a series on climate due diligence. To learn more about how properties with green building certifications will remain resilient in changing climate conditions, keep reading.
The Green Building Advantage
The marketability of any property is improved, and its value is future-proofed through energy efficiency and conservation; Green building certifications act as a mark of a building's energy performance.
Let's examine how.
Energy efficiency offers many advantages, including cost savings, enhanced resilience and reliability of the electric grid, and community, environmental, and health benefits. Implementing energy-efficient measures reduces energy consumption and lowers utility bills, resulting in long-term cost savings for property owners and tenants. Additionally, energy-efficient buildings offer a comfortable and healthy indoor environment with better temperature control, improved air quality, and reduced noise levels.
These factors lead to greater tenant satisfaction and retention, which can result in long-term profitability for those involved in the real estate transaction. For example, property owners can charge higher rent, and their improved financial health translates into more business for bankers.
So why do green building certifications matter? Think of them as a guidepost. You'll have peace of mind knowing the building is a product of sustainable design, construction, and operations. Properties with green building certifications will be resilient to climate change. With this knowledge, you can proactively invest, assess, and upgrade your existing properties to make them certified green buildings.
Let's consider LEED certifications as an example. Research shows LEED-certified buildings emit 34% lower CO2, consume 25% less energy than commercial buildings, and use 11% less water. Moreover, certifications like LEED also improve an investor's chances of getting better financing. "Bankers will perceive LEED certification as a sign of a well-managed company that has a clear strategic plan and good reporting," says Craig Ryan, BDC's Director of Corporate Social Responsibility.
LEED projects are reshaping the built environment across various sectors, including hospitals, homes, museums, schools, and stadiums. With a remarkable count of over 100,000 projects, they encompass 11 billion gross square feet of space distributed across 180+ countries.
Notably, getting a green building certification isn't easy. For instance, "To get [LEED] certified, new buildings or retrofitted existing buildings must meet strict requirements in their site planning, water efficiency, energy use, material selection, indoor air quality and design features."
All these factors highlight how and why a LEED certification should instill confidence during real estate transactions.
The good news? You don't have to spend months searching for this information to support your real estate transaction. Measurabl's CDDS gives insight into any building's green certifications, such as LEED and BREEAM, within minutes.
Like LEED, BREEAM certifications offer similar benefits for building owners, developers, and other stakeholders, from improved energy efficiency and enhanced value to lower environmental impact.
Staying Ahead of the Curve With Climate Due Diligence
When engaging in any real estate transaction, a green building certification can reassure you that the involved properties will remain resilient in changing climate conditions.
CDDS simplifies the process of climate due diligence, particularly identifying such properties, as it offers valuable insight into green building certifications for any property, such as LEED and BREEAM.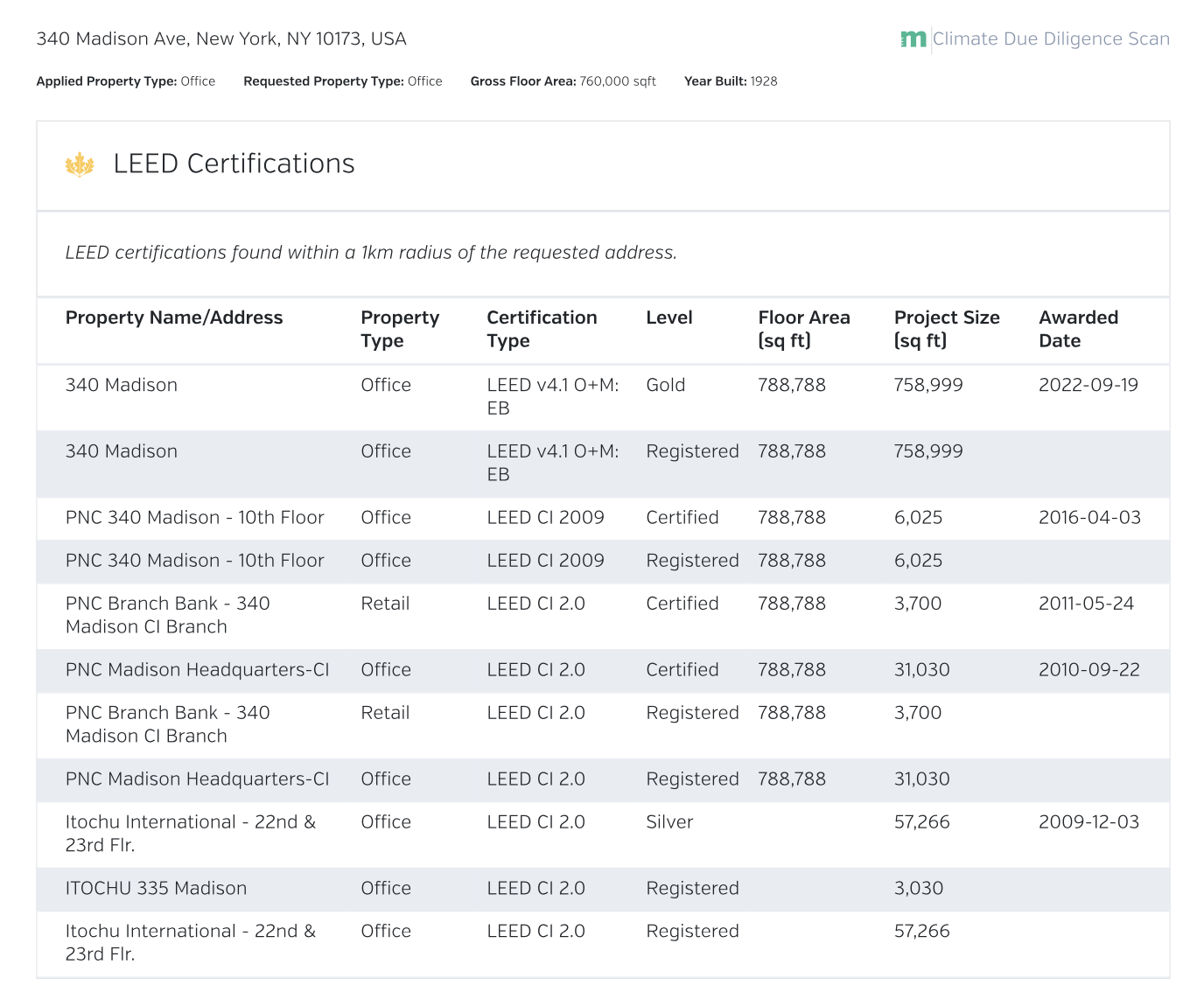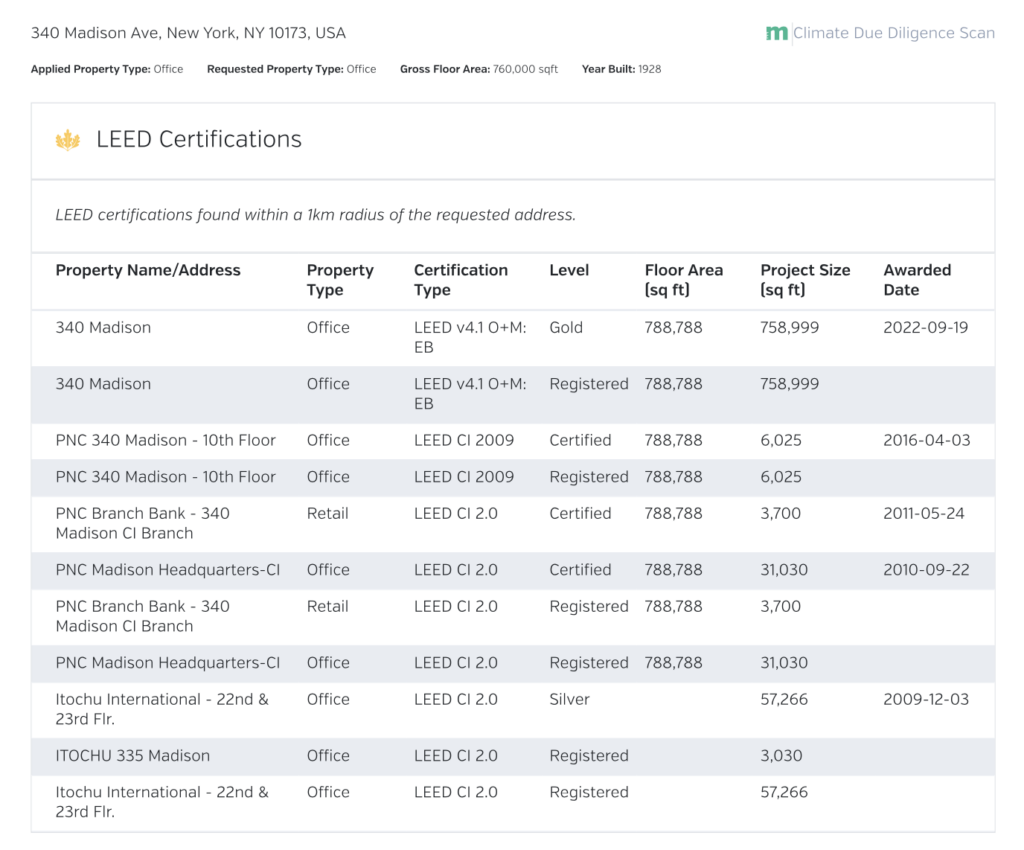 The knowledge of a building's energy performance comes with various benefits. Depending on your role, a report from CDDS can help you:
Make informed investment decisions;
Obtain higher rent and lease renewal if the property's sustainable;
Access more capital to expand your portfolio;
Get approved for lower insurance premiums or other targeted, innovative financial products;
Or evaluate if a real estate transaction contributes to your decarbonization goals or moves you away from it
Even buildings that aren't already green offer an area of opportunity, as "[t]he net-zero transition in the buildings sector could open value pools around green building materials, low-emissions equipment, sustainable design, engineering and construction services, and green technologies and operations," states McKinsey.
Through CDDS, users have access to comprehensive, historical, comparative data that allows them to evaluate the estimated energy performance of a property based on performance indicators specific to the state, country, region, continent, and property type.
With access to industry benchmarks and green certifications, real estate stakeholders can measure a property's performance, compare its energy efficiency with similar buildings on the market, and identify areas for improvement accordingly.
Green building certifications form an essential part of any climate due diligence process. CDDS is the first on-demand report on the market that can give you insight into a property's performance against several types of climate risks within minutes.
Don't just take our word for it. To see the power of CDDS firsthand, request a demo.
---
This is the fourth and final blog in our series about Measurabl's Climate Due Diligence Scan. For more about CDDS, check out the rest of the series:
• Navigating Climate Regulations: Measurabl's Climate Due Diligence Scan for Real Estate Investors and Lenders
• Climate Due Diligence: Assessing Real Estate for Physical Climate Risks
• The Power of Climate-Informed Due Diligence in Improving Energy Performance