Measurabl is the leading ESG data management solution for commercial real estate
Imagine what you can accomplish with access to time-saving automated data capture, on-demand reporting capabilities, and verified service providers to help you manage ESG—all in one place.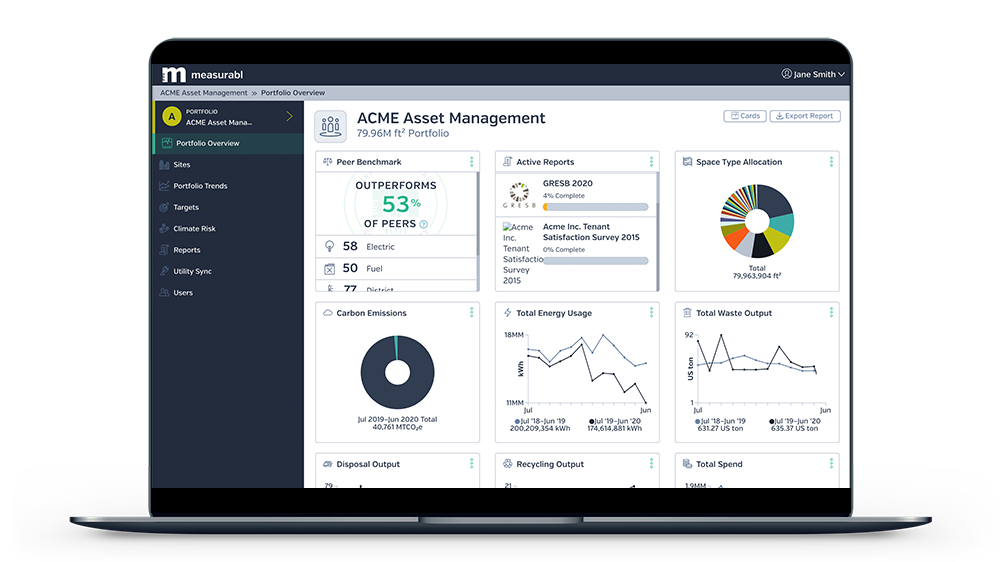 All-in-one solution for ESG
Measurabl offers a wide range of features and functionality to power sustainability measurement, management, and reporting across your entire real estate portfolio. At Measurabl, we're continuously adding new features to develop a scalable ESG solution that will grow with our customers' needs. Here's a look at what we currently offer.
In addition to its industry-leading software platform, Measurabl offers access to a menu of low-cost, high-quality services so they don't have to spend time shopping around for trusted vendors or comparing pricing.
Measurabl eliminates the guesswork by alerting users in our application when certain assets are eligible for services like ENERGY STAR Certification and Benchmarking Ordinance Submission, then connects them with qualified providers. Customers can add these services to existing Measurabl subscriptions, and Measurabl guarantees successful delivery.
Take sustainability to new heights
Commercial real estate industry firms are finding that data-backed ESG performance has gone from a "nice to have" to a business requirement. But it's difficult to keep up with investor and stakeholder demands when your data is trapped in spreadsheets and your team is bogged down with manual, outdated processes.
Measurabl is a tech-founded approach to ESG management, giving users the ability to skip the data-crunching and focus on making improvements that will truly move the needle in their sustainability performance.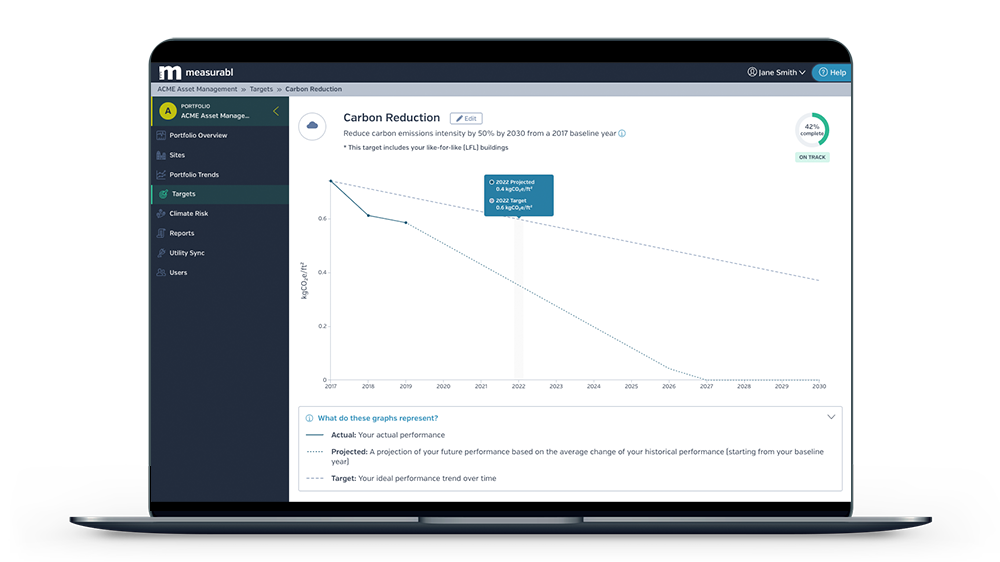 See how Measurabl helps drive ESG outcomes at Salesforce Tower
Patrick Flynn, SVP Global Head of Sustainability at Salesforce, explains how Salesforce Tower is one of the most sustainable buildings in the world
Measurabl is more than just a software platform. It's a whole team invested in their client's success.
Measurabl has dramatically cut down our time investment and improved the quality of our reports.
Measurabl is very user-friendly and the guidance their team offered was invaluable. We're definitely pleased with the process.
Measurabl is the most reliable, cost-effective solution on the market to collect & manage utility data.
How Crown Realty Partners is Accelerating its ESG Efforts