On-Demand Climate Due Diligence for Real Estate Transactions
Get a deeper understanding of climate risks and their impact on potential investments with Climate Due Diligence Scan from Measurabl, the world's most widely adopted ESG technology for real estate.
Climate due diligence is no longer optional.
With a worldwide push toward environmental regulation, and growing evidence that sustainable real estate drives lower costs and higher returns, one thing is certain: Making investment decisions on a property without having visibility into its climate risk can cause significant challenges and missed opportunities in the long run.


Measurabl's Climate Due Diligence Scan
With Measurabl's Climate Due Diligence Scan (CDDS), you can run a climate due diligence report for a property in just minutes. CDDS provides reliable property-level estimates derived from Measurabl's highly accurate machine-learning model, powered by a database of more than 15 billion square feet (1.4 billion square meters) of real estate worldwide, and trusted physical climate risk data from S&P Global Sustainable1.
CDDS offers visibility into the data points that represent the greatest environmental risks and opportunities facing real estate properties for virtually any property in the world.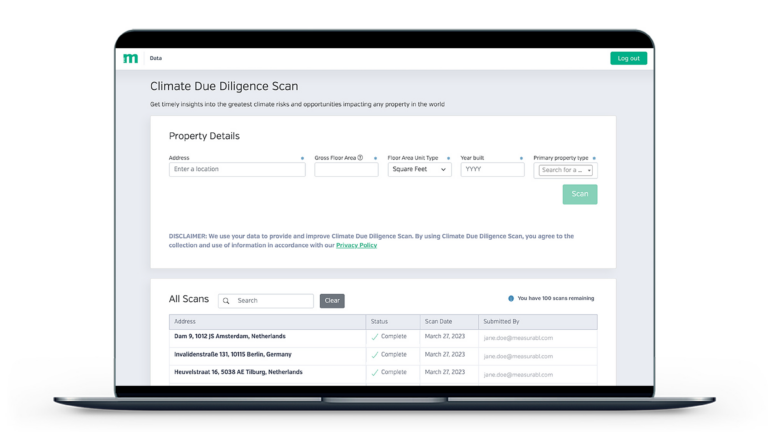 Granular, Impactful, On-Demand Data
Assess a property's climate risk in minutes.
Provide just four property  attributes—address, type, floor area, and year built—and get an instant view into its climate risks and opportunities. Learn how environmental factors can affect your organization's investment, whether you are conducting acquisition, lending, or insurance due diligence.
Get unique insights into material environmental risks and opportunities for any property
Every building scanned will instantly produce a Climate Due Diligence Scan detailing:
Energy consumption estimates
Carbon emission estimates
Physical climate risk scores powered by S&P Global Sustainable1
Green building certifications
Local regulations
Compare the latest data to previous months and years, and see how a property performs relative to global, national, and state benchmarks, all in one report.
Are you ready to get serious about climate risks?
Climate risks are financial risks—Measurabl's CDDS gives you a comprehensive view of the environmental factors that affect your potential investments. We are ready to partner with you to optimize your organization's due diligence process so you can better predict how your investments will perform in an uncertain future.
Contact us and learn more