This post is part of our "Meet the Experts" series. Read about our ESG Advisory Services to learn how Measurabl can help you accelerate your ESG efforts.

As a real estate industry leader, you recognize how a strong environmental, social, and governance (ESG) program creates substantial value for your stakeholders, financial performance, and greater society. But even the most ESG-savvy leaders face an avalanche of pressure, from meeting ambitious decarbonization targets and mandatory regulations, to managing reporting frameworks and creating a more just social environment that allows everyone to prosper. It can feel daunting.
If you're like many real estate firms, you have an ESG proposition that strives to create a positive, purposeful impact. No matter where you are on that journey, chances are you could use extra resources to help alleviate the pressures and foster more significant opportunities to unlock sustainable finance opportunities.
Our customers, who rely on our technology to measure, manage, and disclose ESG data, consistently ask us, "Can you also advise us on our ESG program?" It's clear that they, too, could use extra resources to relieve challenges and optimize their programs. Considering what's at stake for our customers and the industry, our answer was "Yes."
As a company committed to advancing ESG in real estate, we'll soon launch a new line within Measurabl's Professional Services, ESG Advisory Services. We proudly welcome Scott Lemoine, Lead ESG Advisor for North America, to spearhead our Advisory Services team. Scott joins Measurabl with an extraordinary track record of delivering results for their real estate customers. 
We talked with Scott to get his experienced take on the industry's ESG challenges and potential solutions. Scott has spent nearly a decade in sustainability and ESG consulting for public and private real estate owners and operators. He specializes in developing and deploying ESG programs across the entire program lifecycle. We hope you enjoy getting to know Scott in this informative Q&A.
---
Spending on ESG data is projected to increase more than 20% this year. Consulting services are expected to double over 2021. How can real estate leaders cut through the noise, and what should they seek from an ESG solutions partner?
It's no secret that ESG is becoming a household term, not just in the commercial real estate industry. Fortune 500 companies are looking to bolster, build, and report on their ESG programs. ESG covers everything from a portfolio's environmental performance to reporting on a company's workplace safety measures. It's complex, so it can be most effective for organizations to focus on one area at a time.
Most North American real estate companies have successful social and governance programs that they measure and track. However, the environmental aspect of ESG is often the lagging indicator. Tracking environmental metrics is challenging because of complex data capture and reporting requirements, especially those related to Scope 3 emissions. Real estate leaders should seek a partner that understands the current ESG universe and anticipates future trends. Trends aren't just buzzwords; they preview the future and clue us into what investors seek. For example, we know the US Security and Exchange Commission (SEC) proposed climate disclosure regulations are under development, and real estate owners must prepare. Leaders must get on board or get left behind.
Going into 2023, what should North American-based real estate companies focus on in terms of ESG?
Many real estate companies have made public sustainability commitments, like net zero targets and science-based targets. Kudos to companies that have educated the public about their sustainability target goals, but the next step is to act, and action planning is lacking. We've received numerous reports from the Intergovernmental Panel on Climate Change (IPCC) about the devastating effects of climate change and the increased frequency of natural disasters. The warning signs have been there, and now we see the ramifications. What we think is a future issue is absolutely a "now" issue. Right now, the next stage is upon us. Unfortunately, some companies may find themselves building the plane while flying it.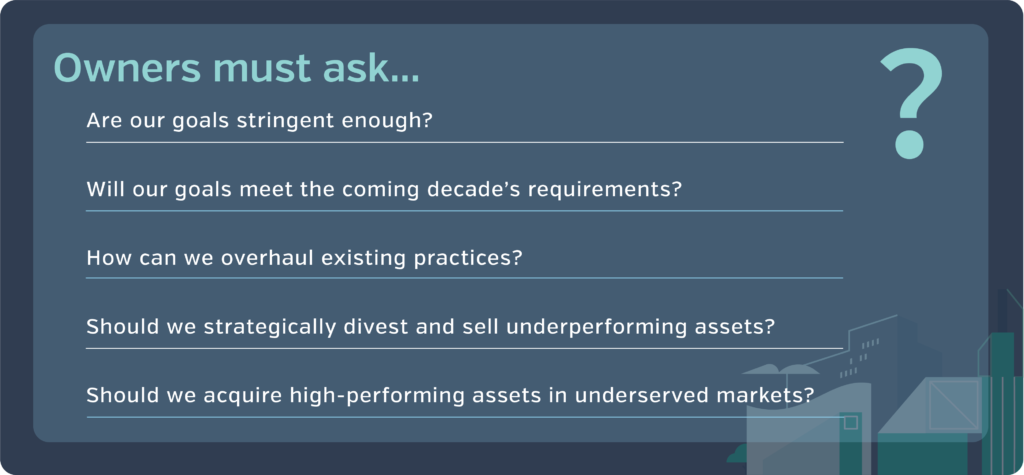 What advice do you offer to a real estate company at the beginning or middle of their ESG  journey? 
A real estate company with a newer ESG program may feel pressure to accomplish everything at once, but that's not the case. Prioritizing matters, but what do you prioritize? I suggest starting with a materiality assessment, which is a useful exercise if done correctly. Materiality assessments are not only a first step in stakeholder engagement but may help uncover what your critical stakeholders think is most important and impactful. This process will dictate future priorities and should be conducted annually.
Why are advisory services a critical component of a holistic ESG solution? 
Technology has been a lifesaver for tracking data, reporting, and organization. But technology only goes so far. Companies need a human component to articulate how to effectively use technology, determine how to achieve outcomes from data, and report those outcomes.
Real estate companies will undoubtedly have questions that only someone with industry experience can answer. For example, how do you break down internal barriers within your organization to achieve buy-in and reach your goals? This can be difficult to accomplish and track, and having a seasoned advisor can help ensure your goals permeate your entire company.
What key areas along our customer's ESG journey do you aim to support?
We support clients with strategy, reporting, and action planning, which are significantly intertwined. Meaningful action stems from a strong strategy. Strong strategy is a product of accurate data. Measurabl supports and can have a tangible effect on every area of ESG.
We deliver strategy by listening to our customers to understand their needs, and then we help them develop best practices. 
Whether voluntary or mandatory, reporting is a demanding, evolving landscape. Our advisors have an in-depth knowledge of various standards, frameworks, and regulations. We support companies in deciding which frameworks are most relevant and how to comply with mandatory regulations. We also have experts dedicated to keeping up with standards, frameworks, and regulations across the globe.
We help real estate companies with action planning, including portfolio decarbonization, asset optimization, or physical climate risk. While portfolio-level strategy is the catalyst to organizational-level ESG progress, action must occur at the asset level to enact real change. 
What unique capabilities does Measurabl bring to the market?
One of Measurabl's biggest strengths is our vast amount of ESG data. Our customers benefit from this data, as it allows them to compare their performance to other companies. Consequently, we can pinpoint a problem before customers realize they have one. We can proactively use our data to identify underperformance and assist customers in taking preemptive improvement measures. 
What will be the biggest opportunity in your new role? 
Our clients know and trust Measurabl and have asked us to offer Advisory Services to complement our technology platform. In launching Advisory Services, customers can significantly boost their ESG programs using a single vendor. We want to elevate our customers, and we can push them to new heights by combining their ambition and our expertise. We can move forward together quickly, strategically, and diligently in the competitive real estate landscape to give customers that edge.
What is it about the Measurabl culture that excites you?
The culture itself was a big reason I joined the company. Measurabl has kept a start-up feel while displaying a vast commitment to growth and development. The atmosphere promotes well-being through transparency, empowerment, and excellent benefits. Leadership is genuinely committed to making people comfortable so the team delivers their best work.
To learn more about Measurabl's Advisory Services, click here.