Learn how Measurabl can help you report to each of these
There's no denying that ESG is in demand—Moody's ESG Solutions recently raised its forecast for sustainable bond issuance, including green, social, sustainability and sustainability-linked bonds for the year to over $1 trillion (nearly 862 billion Euro). With increasing demand comes a higher degree of scrutiny, as investors and legislators alike are demanding stronger evidence to back companies' ESG performance claims.
There's no one way to measure ESG, and this especially rings true for the real estate industry. Though frameworks like GRESB, CDP, GRI and UN PRI, and others, are still popular choices for commercial real estate owners, a number of other voluntary and mandatory frameworks have entered the picture. These include new regulatory frameworks as well as voluntary programmes meant to guide asset owners toward decarbonisation of their portfolios and accounting for the broader scope of climate change-related risks and opportunities. Some of these programmes are focused on preventing greenwashing of ESG financial products, while others are there to encourage and assist asset owners in developing clear paths to reduce their carbon emissions to net-zero.
Here is a primer on five emerging tools and frameworks that are becoming increasingly relevant to global real estate owners. Regardless of how you choose to report, Measurabl can help you streamline the process and provide complete, accurate, and timely data required to help you get results that truly represent your ESG performance.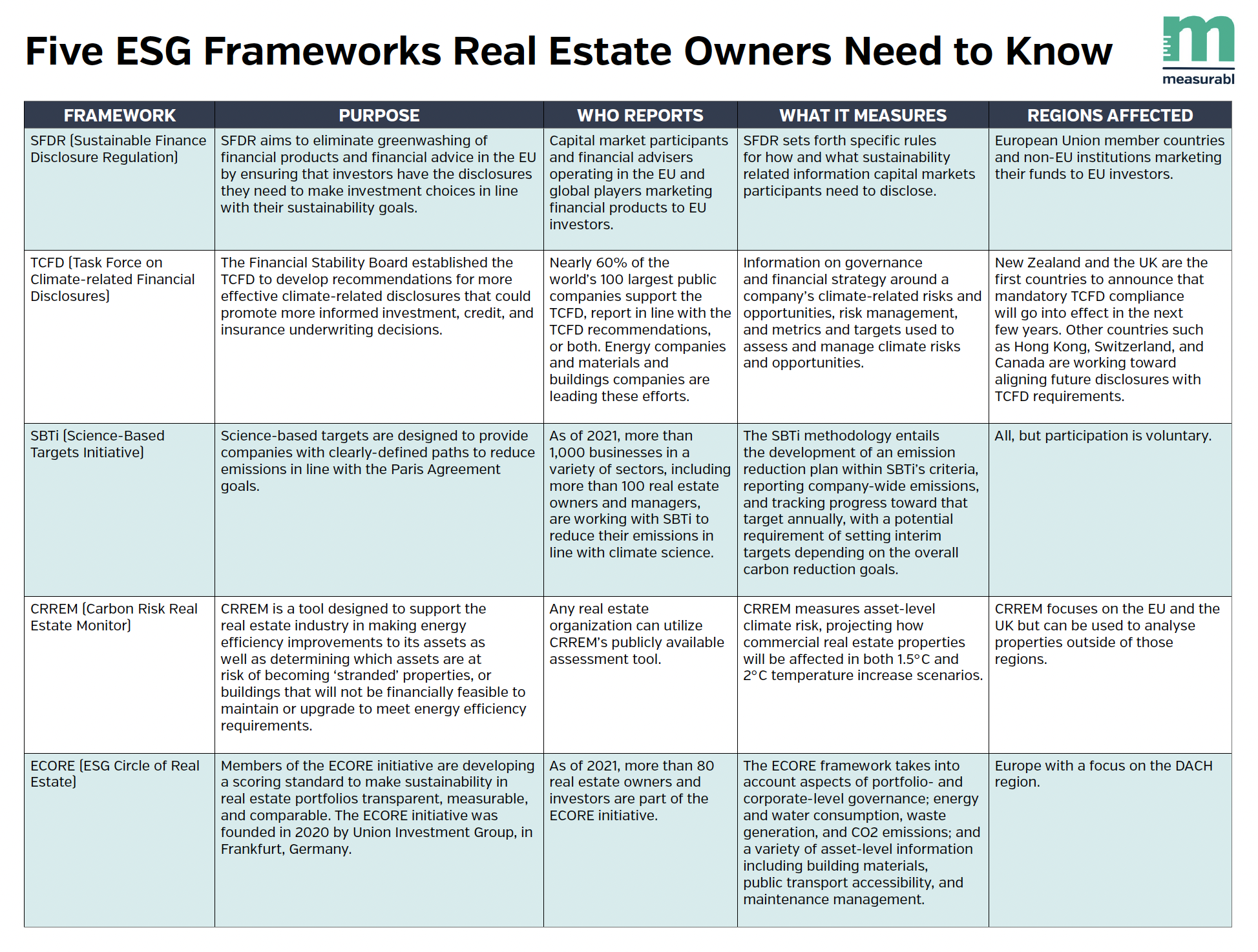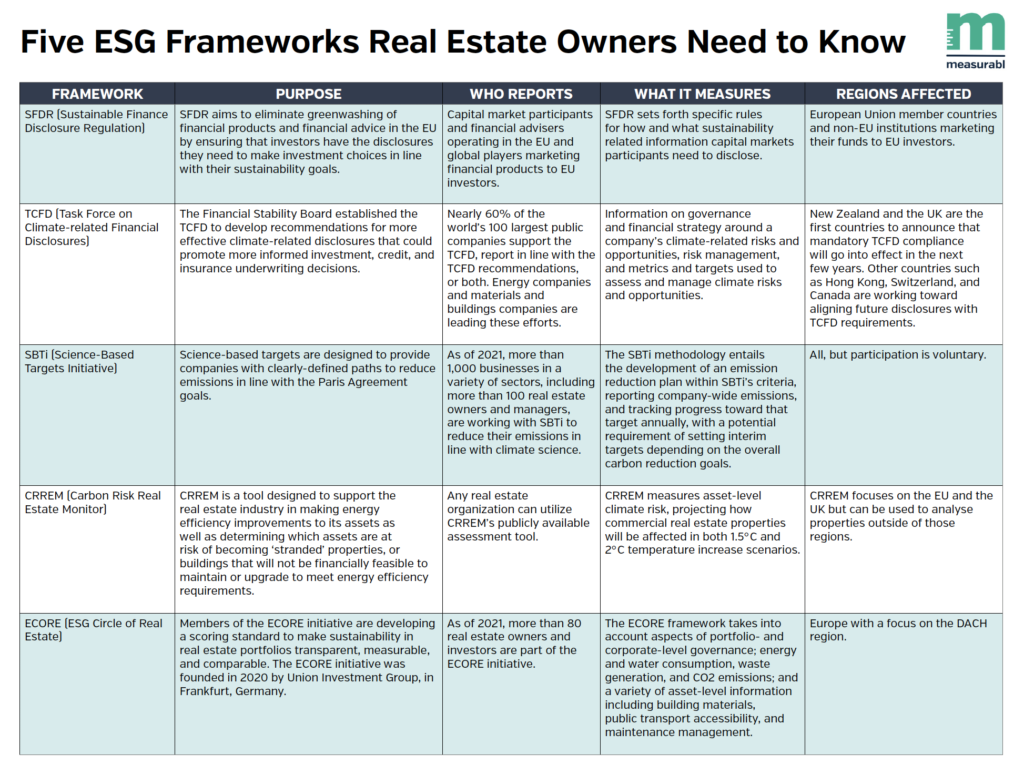 Download our quick guide to the top five emerging ESG frameworks
REGULATORY FRAMEWORKS
SFDR (Sustainable Finance Disclosure Regulation)
Purpose: SFDR aims to eliminate greenwashing of financial products and financial advice in the EU by ensuring that investors have the disclosures they need to make investment choices in line with their sustainability goals. The SFDR regime is being rolled out in phases with the first one underway since March 2021, and Level 2 disclosure requirements envisioned to come into force in mid-2022.
Regions Affected: European Union member countries and non-EU institutions marketing their funds to EU investors
Who Reports: Capital market participants and financial advisers operating in the EU and global players marketing financial products to EU investors
What it Measures: Launched in March 2021, SFDR sets forth specific rules for how and what sustainability related information capital markets participants need to disclose. At the entity level, companies must disclose information on how they integrate sustainability risk in investment decision-making processes or financial advice, how the company considers Principle Adverse Impact (PAI) indicators, how remuneration policies are consistent with the integration of sustainability risks, and pre-contractual disclosures on sustainability risk integration, including assessments of how the performance of financial products may be affected by those risks.
How Measurabl can help: Our GRESB and CDP reporting modules, Physical Climate Risk assessment tool (PCRX), and diverse set of ESG analytics cover many of the PAI indicators required to be reported under SFDR. Measurabl is well versed in bridging the identified gaps by providing a simple way for customers to meet their regulatory reporting requirements with minimum reporting burden.
---
TCFD (Task Force on Climate-related Financial Disclosures)
Purpose: The Financial Stability Board established the TCFD to develop recommendations for more effective climate-related disclosures that could promote more informed investment, credit, and insurance underwriting decisions and, in turn, enable stakeholders to understand better the concentrations of carbon-related assets in the financial sector and the financial system's exposures to climate-related risks.
Regions Affected: TCFD is an optional framework available worldwide. New Zealand and the UK are the first countries to announce that mandatory TCFD compliance will go into effect in the next few years. Other countries such as Hong Kong, Switzerland, and Canada are working toward aligning future disclosures with TCFD requirements.
Who Reports: Nearly 60% of the world's 100 largest public companies support the TCFD, report in line with the TCFD recommendations, or both. Energy companies and materials and buildings companies are leading these efforts, according to a 2020 status report.
What it Measures: Information on governance and financial strategy around a company's climate-related risks and opportunities, risk management, and metrics and targets used to assess and manage climate risks and opportunities.
How Measurabl Can Help: Many of our customers have large portfolios located in the UK and are subject to TCFD. Measurabl supports six of the policy-based disclosures as well as three of the metrics-based disclosures through our Portfolio Trends analytics and the CDP, GRESB and Portfolio reports. Measurabl is also able to support climate scenario 8.5 through our Physical Climate Risk Exposure functionality, with more climate scenarios coming soon.
---
PATHWAYS TO NET ZERO
SBTi (Science-Based Targets Initiative)
Purpose: Science-based targets are designed to provide companies with clearly-defined paths to reduce emissions in line with the Paris Agreement goals.
Who Reports: As of 2021, more than 1,000 businesses in a variety of sectors, including more than 100 real estate owners and managers, are working with SBTi to reduce their emissions in line with climate science.
Regions Affected: All, but participation is voluntary
What it Measures: Companies can set a science-based target (SBT) by submitting a letter of intent, which once accepted, kicks off a 2-year period within which the SBT needs to be approved, and then monitored on an ongoing basis. The SBTi methodology entails the development of an emission reduction plan within SBTi's criteria, reporting company-wide emissions, and tracking progress toward that target annually, with a potential requirement of setting interim targets depending on the overall carbon reduction goals.
How Measurabl Can Help: Measurabl helps customers track their progress toward carbon emissions, energy, water, and waste targets over time. We are also working to enhance our target setting module to encompass a range of net-zero pathways and scenarios, including the carbon reduction assessment methodology contemplated as part of the Science Based Targets Initiative (SBTi).
---
CRREM (Carbon Risk Real Estate Monitor)
Purpose: CRREM is a tool designed to support the real estate industry in making energy efficiency improvements to its assets as well as determining which assets are at risk of becoming 'stranded' properties, or buildings that will not be financially feasible to maintain or upgrade to meet energy efficiency requirements.
Regions Affected: CRREM focuses on the EU and the UK but can be used to analyse properties outside of those regions.
Who Reports: Any real estate organization can utilise CRREM's publicly available assessment tool.
What it Measures: CRREM measures asset-level climate risk, projecting how commercial real estate properties will be affected in both 1.5°C and 2°C temperature increase scenarios. The CRREM software is Excel-based and helps users identify which properties will be at risk of stranding due to the expected increase in stringent building codes, regulation, and carbon prices. It also enables an analysis of the effects of refurbishing single properties on the total carbon performance of a building, including by assessing emissions related to the embodied carbon of the retrofit itself.

How Measurabl can help: Measurabl is currently supporting some of its customers in leveraging data and best practices required to complete the CRREM assessment. We're working to provide a software solution for helping our customers analyse their data using CRREM's methodology. This is targeted for a 2022 release.
---
VOLUNTARY FRAMEWORK
ECORE (ESG Circle of Real Estate)
Purpose: Members of the ECORE initiative are developing a scoring standard to make sustainability in real estate portfolios transparent, measurable, and comparable. The ECORE initiative was founded in 2020 by Union Investment Group, in Frankfurt, Germany.
Regions Affected: Europe with a focus on the DACH region
Who Reports: As of 2021, more than 80 real estate owners and investors are part of the ECORE initiative.
What it Measures: The ECORE framework takes into account aspects of portfolio- and corporate-level governance; energy and water consumption, waste generation, and CO2 emissions; and a variety of asset-level information including building materials, public transport accessibility, and maintenance management. In addition to ESG factors, the scoring also maps the required taxonomy criteria of the Paris Climate Agreement and the EU Green Deal.
How Measurabl can help: Measurabl is well positioned to support our customers with fulfilling their data requirements under the ECORE scoring methodology. Several of our existing customers utilise Measurabl to facilitate their ECORE rating.
Schedule a Demo to learn how Measurabl can streamline your ESG reporting