Spotlight Your Success Through ESG Reporting
Disclosing ESG (environmental, social, governance) performance is an essential business practice to ensure you meet stakeholder demands, manage your business well, and have superior access to capital – in fact, 86% of the S&P 500 participates in voluntary ESG disclosure. One way real estate companies can synthesize their ESG accolades is through a GRESB Real Estate Assessment. However, this process can seem daunting: The reference guide alone is over 300 pages. With the amount of data you need to collect and report in a short timeframe, it's essential that you get help.

Why We Simplified the GRESB Reporting Process
We know there's a lot of information to collect, digest, and report for a single GRESB submission. Measurabl's CEO, Matt Ellis, founded Measurabl in part because he had been tasked with submitting these types of reports and found that he spent more time creating them than actually making improvements to CBRE's portfolio. He thought there should be a better way to manage them. Since one didn't exist, we created it.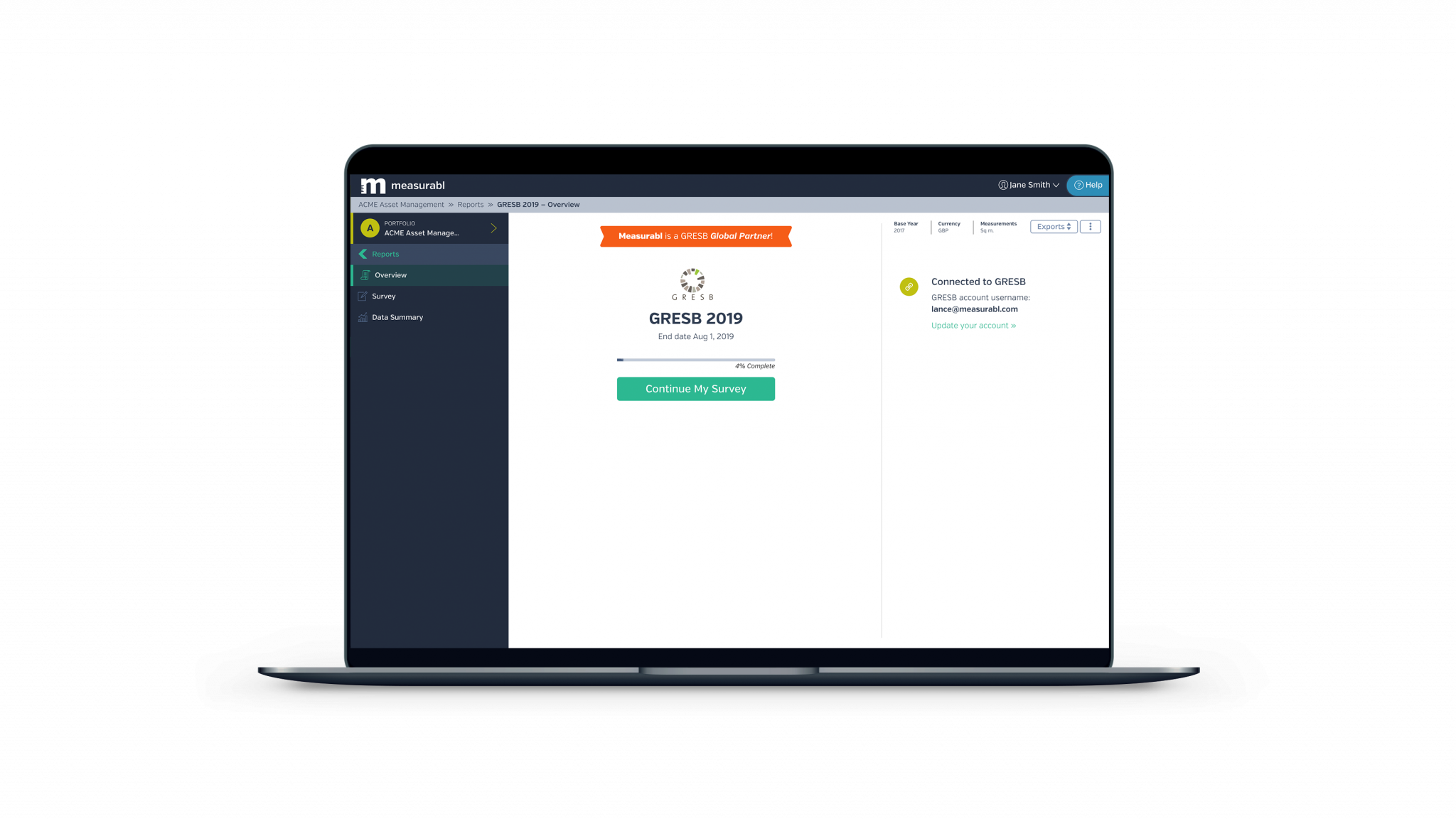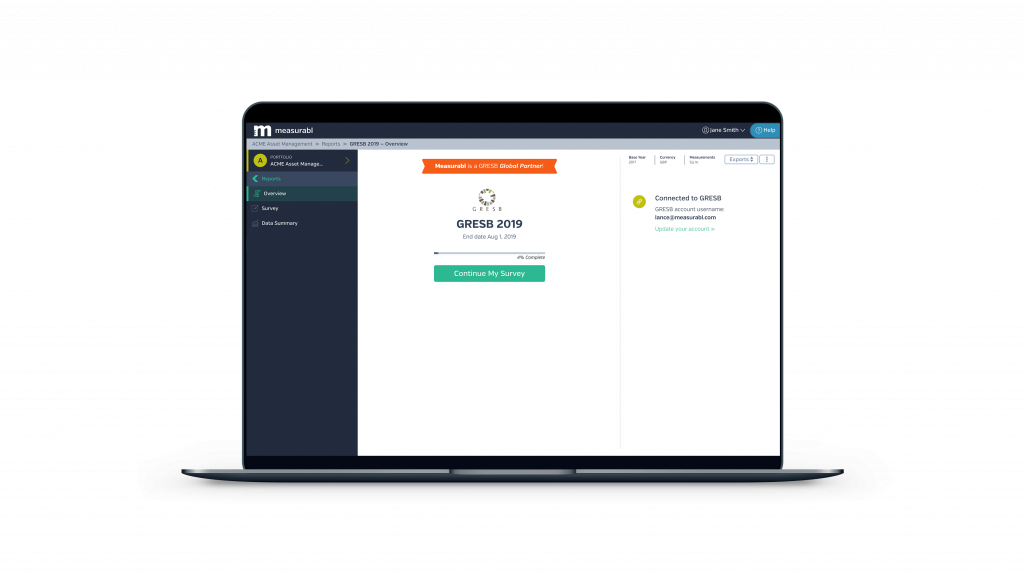 Measurabl simplified the GRESB reporting process by creating a platform with straightforward questions, sample answers, automated data collection, and a variety of tools to provide a streamlined GRESB submission experience. As a GRESB Global Partner, we've simplified the process for our customers to submit hundreds of GRESB Real Estate Assessments.

Superior Tools for Submitting Your GRESB Real Estate Assessment
Measurabl has created a host of features that enable you to easily collect all necessary information for the GRESB assessment. Through the Measurabl platform, you will be able to submit a GRESB Real Estate Assessment with the help of a streamlined, technology-driven process.
Step-by-step guidance: Measurabl's GRESB Reporting Module walks you through every question of the Real Estate Assessment to ensure you fully understand every question and can receive maximum points.
Simplified data collection: We collect qualitative and quantitative data and perform calculations at the asset- and portfolio-level, automatically.
Asset-level data reporting made easy: Measurabl's platform allows you to input utility data, certifications, ratings, projects, and audits at the asset level – now required by GRESB.
Centralized performance indicator data: Keep all of your data in one place so you can make sure all of it is accurate before submission.
Data integrity monitoring: Analyze gaps and overlaps at the portfolio and site levels so you can address any data quality issues before you submit to GRESB.
Automated response check: Use our automated response check for free to identify any incomplete data, invalid links, or missing evidence. Especially with asset level reporting, fixing these issues will be essential to your GRESB Assessment.
Report filing support: Customers receive report filing support through a dedicated Customer Success Manager to ensure they understand best practices for submitting a successful GRESB Assessment with Measurabl's software.
Seamlessly share data to GRESB: Measurabl has a unique API (application programming interface) that allows us to send GRESB data from our platform to their assessment, removing the potential for manual errors.
Data Completeness: This feature provides actionable information on energy data coverage to better understand where data gaps are. This allows you to allocate time and resources toward initiatives that will give you a more complete picture of your building data. 
With the help of these tools, Measurabl's customers have experienced a more streamlined reporting process while improving their GRESB performance. In 2021, Measurabl helped 214 funds submit a GRESB Real Estate Assessment; these funds averaged a 8-point increase on their overall GRESB score and 80% earned a Green Star.
What's Coming Next?
We're proud to provide a technology that makes your company resilient and scalable. We will continue to improve the platform that has saved you hours of work and gotten you out of spreadsheets. Through this work, Measurabl will make sure you have access to best practices of submitting to GRESB, including support with filing your report.

Measurabl is constantly updating its features to make this process even smoother. Our next product enhancement will empower clients to more accurately align assets in their financial reporting, stakeholder disclosures, and other ESG statements with GRESB assessments. Stay tuned to receive the latest updates on ways to improve the reporting process for a GRESB Real Estate Assessment.