Our recently posted 4th quarter sustainability playbook detailed what you need to accomplish in Q4 of each calendar year to improve your score on CDP and GRESB. Now that you have those plays in hand, executing on them before running out of time is the only thing standing between you and an improved reporting outcome. To make sure you don't miss a beat, Measurabl launched a new feature: Activity Timeline. This tool automates sustainability project management- helping keep sustainability efforts on target and on time, ultimately delivering superior performance.
Your Timeline includes links to take you to action items you need to complete, like updating building data or responding to new reporting requirements issued by GRESB, CDP or GRI.
Your Timeline lists action items vertically alongside your app and includes regular updates on legislation, best practices and industry events so you can keep your organization on track and yourself "in the know" year round. It's available to all Measurabl users, even those on the "Basic" free subscription plan, though only paid subscribers get custom alerts based upon their unique goals.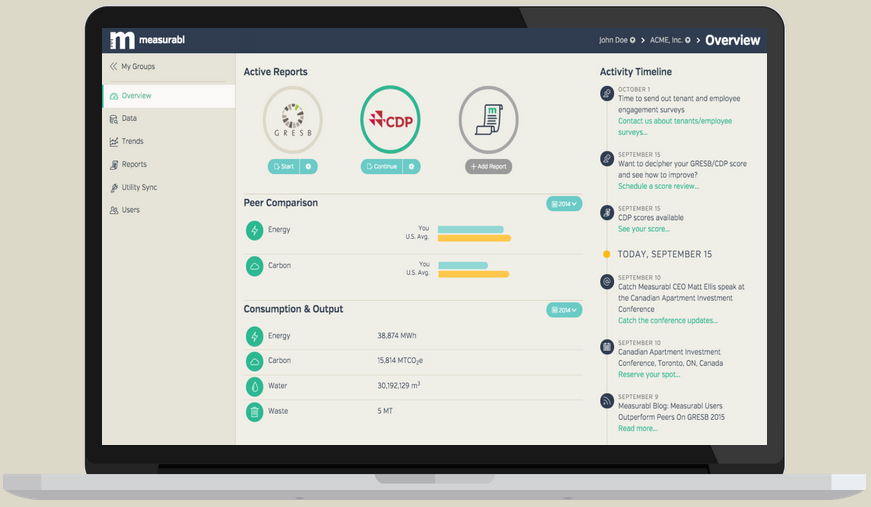 Check your Timeline regularly to avoid the pitfalls that pervade the notorious post-reporting season "Valley of Inaction", as well as transform your sustainability program into one that fits into a Plan-Do-Check-Act cycle espoused at the heart of ISO's management standards, including its famous Environmental Management Standard: 14000. Here's a sample of what's on your timeline and a few tips for getting the most from the new feature.
A sample of Upcoming Must-Do's
September 15: CDP scores available
October 1: Send out tenant and employee engagement surveys

(yes, you can do that with Measurabl!)
November 16: ENERGY STAR certification deadline
What ELSE IS ON my timeline?
GRESB, CDP, GRI-related milestones and reporting deadlines
Account updates e.g. recent modifications to building data, meters, and errors
Industry best practices sourced form across the Measurabl community of over 1 billion square feet and thousands of commercial buildings
Upcoming sustainability-related industry events like Greenbuild, NAREIT, ULI and more
New Measurabl features, tips and tricks
User specific reminders to update time-sensitive info like fair market valuation of owned buildings
Why you'll love it
Keeps you on top of deadlines and to-do's
Allows your Measurabl Customer Success Manager to track progress towards your specific goals
Bringing The Timeline To Life
Art is Senior Product Designer at Measurabl. He's responsible for making sure our product is beautiful and useful. We asked Art about the process of creating Timeline.
"I looked at other apps that make good use of chronology and events, like Facebook, Twitter, Google Analytics, Venmo, and HubSpot, took a long walk, drew a series of mockups, socialized them with the Measurabl team and a few customers. From there I polished up the details of the new user Interface (UI) and asked my Grandma if it made sense to her. Once I got her sign-off, I knew we had something most anyone wold understand how to use, so I started building. The result is a simple, scalable paradigm for viewing events and To-do. It has a lot of potential and I look forward to growing it's capabilities over the next several months."