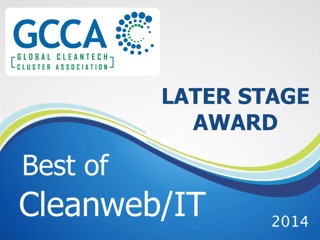 Measurabl was named world's #1 Cleanweb start-up by Global Cleantech Cluster Association.
Measurabl, the cloud-based solution for sustainability reporting and data management, has been named the world's best cleanweb start-up by the Global Cleantech Cluster Association (GCCA). The prestigious award recognizes mid-to late-stage companies from around the world that have a proven track record in their home market, with the goal to expand internationally.
The GCCA Later Stage Award Top 10 winners were selected from an original pool of 10,000 eligible companies represented by the GCCA's 52 member clusters. Each cluster conducted internal evaluations to nominate up to 10 companies in the 10 categories. In total, these member clusters nominated 100+ companies for the 2014 Later Stage Awards. That number was later narrowed to the Global Top 30 semi-finalists and the Top 10 winners.